Washoe County, Nevada Approves "Smarter Region" Recommendations
Cities around the world face issues that are unique to urban environments, but just as often, it takes a broader approach to solve them. Less than one year after Reno, Nevada (United States) received an IBM Smarter Cities Challenge grant, the city assembled 11 local and regional agencies to agree on an action plan to implement the recommendations of their IBM team – the first Smarter Region Summit of its kind in the area. By bringing together local governments, regional planners, K-12 and higher education, businesses, tourism and the airport authority, these leaders are poised to make great progress on the city's vision for economic development and industry growth across the region.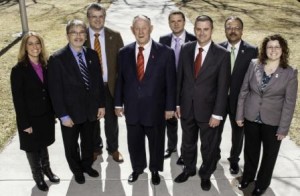 I recently had a chance to speak with Reno Mayor Robert Cashell to understand how IBM's expertise is helping the region to engage as a collaborative team, and what he sees on the horizon after his mayoral term ends in a few short months.
__________________________________

Jen Crozier: How did the Smarter Cities Challenge grant change the way you approach economic development in Reno? 

Robert Cashell: The Smarter Cities Challenge grant fundamentally changed the way that Reno understands and undertakes economic development. The IBM team gave us a long overdue and much needed "outside-in" perspective. They told us that for Reno to improve our economic development outcomes, we needed to change our mindset and start acting cooperatively with other agencies and other units of local government in our area – primarily, the City of Sparks and Washoe County. Rather than competing against each other to attract new industrial growth, which is what we had been doing, we would achieve more by working together. The team also told us that we would be better off by allowing the private sector – which is our regional development authority – to lead the charge. 

Jen Crozier:  Last month, you held a Smarter Region Summit with stakeholders from 11 entities in your region. How did the SCC team's recommendations tie into this broader regional approach? 

Robert Cashell: The Summit was the first opportunity for the public to learn about all the hard work that has been happening behind the scenes for the last year to bring the SCC team's recommendations to life. 

Reno basically took the team's recommendations and elevated them to the next level; we took the project from being Reno-centric to regional-centric. We formally invited 10 other agencies to join us in implementing the project, including three private entities, and then agreed to work together on economic development in a very different way. Our region has never created a true public-private board before, so the Summit broke new ground on changing the local mindset. Each item on the Summit agenda asked for either ratification or direction on the SCC team's five recommendations. And I am pleased to report that all the items were approved unanimously by the stakeholders. 

IBM helped us enormously in executing the Summit. Lori Feller, one of the original SCC Reno team members, presented the item asking the 11 entities to ratify a governance model that would underpin the new cross-agency relationships we are building. And Jurij Parszczak, IBM Emeritus of Global Smarter Cities Research and current Distinguished Service Professor at Carnegie Mellon University, lent his expertise in facilitating the meeting. We really needed IBM's participation in the first Summit to underscore the message that was delivered in the SCC Final Report, so we are very grateful that Lori and Jurij could attend. 

Jen Crozier: How has the outcome of this event shaped your plans for Reno going forward? 

Robert Cashell: Well, I guess my first thought is that our region is actually capable of working together! For a while, we didn't know if that would happen. Going forward, I expect there will be more Summits – probably two per year – as we start to put the team's recommendations into action. One of the first things the stakeholders will be focused on is the development of the new system-of-systems data utility that we all agreed could revolutionize how our region uses its data. I look forward to hearing the results of that process later this year. We're also finalizing a new regional economic development vision for our region – which is another first. So we will be continuing to break new ground as Smarter Region takes shape. 

Robert Cashell is the Mayor of Reno, Nevada, a recipient of an IBM Smarter Cities Challenge grant. Reno and its regional partners are taking the collaboration of their economic development governance model seriously, to grow the economy in the region and to continue to promote the livability of Western Nevada.

Jen Crozier is Vice President of Global Citizenship Initiatives at IBM. 

Related Resources: 
Mayor Robert Cashell: Revitalizing Reno 
City of Reno: Smarter Region Leadership Summit 
Jen Crozier Q&A with Syracuse, NY Mayor Stephanie Miner 
Read Blogs by IBM Smarter Cities Mayors